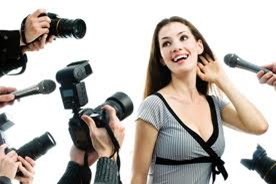 Have you been overlooked PR as a viable marketing strategy for your business? Maybe you have thought about PR for your business but quickly dismissed the idea once you found out that most publicists charge several thousand dollars a month with no guarantee you will get any media placement?
PR is vital to your business because it can quickly establish you as an expert in your field. We live in a celebrity-obsessed culture and most people naturally hold in higher regard people and businesses that appear positively in the press. Getting your business in the media gives it instant credibility and massive exposure that you could not get from most other marketing efforts.
If you would like to implement PR marketing into your business, you can do it on your own without hiring an expensive public relations firm. Although, if you do have the budget for a publicist, you will save hours of time and effort and be able to take advantage on your publicists years of experience, expertise and most importantly—media connections.
Here are 5 "do it yourself" PR tips to gain media exposure:
1. Most local newspapers have a business section that routinely reports on events, activities and community service involvement. Make sure you contact the editor in charge and send them a press release about your event or promotion. Remember to make your press release newsworthy and interesting to the public. Do not use your press release as a sales pitch.
2. Tie into breaking news stories. Does your business fit into to a major news story? Can you do something different to attract media attention? Think of creative ways to tie your business into breaking news stories.
3. Become a sponsor. Sponsoring a charity or event is a great way to get PR and great goodwill for your company. Teaming up with a charity that has a lot of visibility will give you tremendous exposure for your business.
4. Acknowledge members of the media and reach out to them. Send a card, an email or write a recommendation on LinkedIn. Offer to help any media person that calls you by helping them find guests. Everyone loves to be appreciated for who they are and people always remember people who reach and touch their lives.
5. Write a feature article that fits into the section of your local newspapers and magazines. For example, if you are an accountant you can provide ways to avoid a tax audit for the business section. Make it specific for the section you are pitching.
Some more tips: It is always best to start with your local media outlets and get your feet wet by doing multiple interviews and local TV appearances before you venture out to the mainstream media. Remember, any publicity you get can be leveraged long after your interview, article or clip has aired. Make sure to get copies of any video clips and articles so that you can display them on your website.
Finally, put the logos of the shows and publications you have appeared on the main page of your website and gain instant credibility and trust with your website visitors.
Christina Rowe is the founder of Stand Out! Media Group and helps business owners and entrepreneurs create a unique brand and strong online presence, leverage social media to create legions of fans, utilize creative out-of-the box marketing strategies and techniques and use PR to attract media attention. Get Christina's Free Ebook, Stand Out! Online with 20 Super Cool Online Tools & Apps at www.standoutmediagroup.com